Iowa Lottery CEO & Lottery Board
Learn more about the Iowa Lottery CEO Terry Rich and our Lottery Board.
Iowa Lottery CEO Terry Rich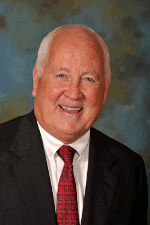 Terry Rich has served as the CEO of the Iowa Lottery since February 2009. Prior to that, he was CEO of Iowa's Blank Park Zoo; President and CEO of Rich Heritage, Inc., a national marketing and television production company; and Vice President of Marketing for Heritage Communications, Inc.
Terry has won numerous entrepreneurial awards in television production and marketing, has a bachelor's degree in Speech from Iowa State University and is a member of the ISU Board of Governors.
The Iowa Lottery Board
The Iowa Lottery Board is made up of five Iowa citizens appointed by the governor, and the State Treasurer serves as an ex-officio member of the board. The board oversees the lottery and its operations. Each department at the lottery formally reports to the board at meetings held throughout the year. According to Iowa Code, the Lottery Board must have a member with an accounting background, a member with experience in marketing, a member with law enforcement experience and another member who has or is currently practicing law. No more than three board members can be of the same political party.
For information about board meetings and related meeting materials click here.
Current Lottery Board Members
Mike Klappholz joined the Lottery Board in 2006. He is retired from serving as chief of police in Cedar Rapids and lives in Marion.
Mary Junge served on the Lottery Board from 1999 to 2014 and was re-appointed in 2016. She is a certified public accountant and practicing tax- and estate-planning attorney who resides in Cedar Rapids
Connor Flynn Jr. joined the Lottery Board in 2015. He is chairman of Lessing-Flynn Advertising in Des Moines, where he also resides.
Mary Rathje joined the Lottery Board in 2015. She is the office manager and controller at Rathje Construction Co. in Marion, where she also resides.
Michael L. Fitzgerald has been a part of the Lottery Board since 2003. He is Iowa's State Treasurer. He lives in Waukee.
Ying Sa joined the Lottery Board in 2014. She is the founder and Principal Certified Public Accountant at Community CPA & Associates Inc. in Des Moines, where she also resides.
Return to top↑