Receipts Are Available.

Iowa Lottery players can receive a receipt every time they check or cash a lotto or instant-scratch ticket.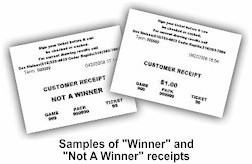 You should always protect yourself by determining on your own whether your ticket has won a prize before you present the ticket to be checked or cashed. But whenever a lotto or scratch ticket is checked or cashed in Iowa, receipts are printed from the terminal.
Be sure you receive the customer receipt that shows the results of your ticket! No receipts are involved for pull-tab tickets because they already include "built-in receipts." Any prize amount won on a pull-tab is already printed underneath the tabs on the ticket so the prize involved is very clear.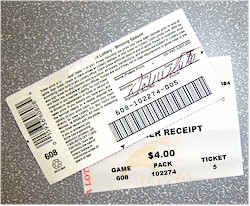 When your lotto or scratch ticket is validated, the same serial number is printed on both the receipt and the ticket, so you can ensure they match.
If the receipt is for a scratch ticket, information at the bottom of the receipt shows the game, pack and ticket number for the ticket involved. Those same numbers are just above the barcode on the back of each scratch ticket, so you can check the receipt against the ticket to be sure they match.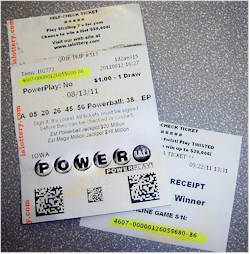 If the receipt is for a lotto ticket in a game like Powerball or Hot Lotto, in the upper left-hand corner of the receipt is the word "Term," which relates to the terminal being used to check the ticket. Underneath that is the 14-digit serial number for your ticket. The serial number is the string of numbers in front of the dash. That same serial number also is in the upper left-hand corner of the ticket itself. So again, you can check the receipt against the ticket to ensure they match.
A lot of retail locations automatically offer nonwinning tickets back to their customers, but if that doesn't happen, feel free to ask for your ticket back if you have any concerns. Winning tickets are kept by the lottery and its retailers for record-keeping and security purposes, but nonwinning tickets can be returned to the customer.
Players are responsible for checking the accuracy of tickets before leaving the store, and for determining whether or not a ticket is a winner. If you believe you have won, and the terminal rejects, or a retailer disputes the validity of your prize claim, you may submit your claim directly to the Iowa Lottery for review. All risks of redeeming the ticket remain with the player. Iowa law prohibits the sale of lottery tickets to individuals under 21 years of age.
For more information, see our Sign Your Ticket FAQ page.
Don't be scammed! If you ever have a concern about Iowa Lottery security, products or operations, please call the lottery immediately at 515-725-7900 or e-mail us at wmaster@ialottery.com.