Sign It. It's Yours.

As part of its commitment to player security, Iowa requires that you SIGN YOUR TICKET before it can be checked or cashed.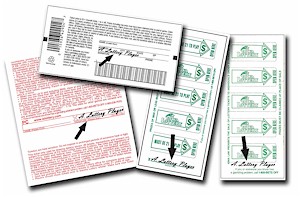 As of March 15, 2008, Iowa retailers will only be able to check and cash signed tickets. This applies to ALL Iowa Lottery tickets.
Players are responsible for checking the accuracy of tickets before leaving the store, and for determining whether or not a ticket is a winner. If you believe you have won, and the terminal rejects, or a retailer disputes the validity of your prize claim, you may submit your claim directly to the Iowa Lottery for review. All risks of redeeming the ticket remain with the player. Iowa law prohibits the sale of lottery tickets to individuals under 21 years of age.
For more information, see our Sign Your Ticket FAQ page.
Don't be scammed! If you ever have a concern about the Iowa Lottery, its products or operations, please call the lottery immediately at 515-725-7900 or e-mail us at wmaster@ialottery.com. If you have a security-related concern, please report it directly to the Iowa Lottery Security Department at 515-725-7888.