All Or Nothing™ Lotto Game Sees First $100,000 Top Prize Winner
Ticket Sold in Minnesota is First to Win the Game's Top Prize of $100,000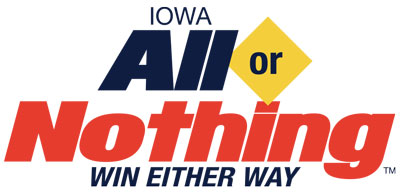 To download image, right click on image, then navigate to 'Save Picture As' to save this file to your computer.
DES MOINES, Iowa - The new joint Iowa and Minnesota lotto game - All or Nothing - has seen its first $100,000 top prize win.
In the Sunday evening All or Nothing drawing, a ticket sold in Minnesota matched no numbers to win the first top prize in the new game.
The All or Nothing game debuted Jan. 28. The game's concept allows players to win the top prize of $100,000 by matching all of the winning numbers in one of its drawings or none of them.
The winning numbers in Sunday's evening All or Nothing drawing were: 1-3-7-9-13-14-16-17-18-19-23-24. The winning ticket was sold in Wright County, Minnesota.
Iowa Lottery CEO Terry Rich said the anticipation has been building to see which state would hit the game's first top prize win.
"It looks like Minnesota wins this round," Rich said. "The All or Nothing game has been very well received by both Iowa Lottery and Minnesota State Lottery players. We look forward to many more top prize winners."
All or Nothing is a joint game being offered in both states, with two drawings per day, seven days a week. Players in All or Nothing choose 12 numbers from a pool of 24. Twelve winning numbers are selected in each midday and evening drawing and plays in the game cost $1.
The game has an hourglass prize structure offering 10 ways to win, with the $100,000 top prize at the two extremes - for matching all or nothing - and smaller prizes working in from there. Players can win the game's second prize of $1,000 for matching 11 of the winning numbers or just one of them. The $20 prize level is for those who match 10 numbers or two; the $5 level is for those who match nine numbers or three; and players win $1 for matching eight of the numbers or four. Those who wind up in the middle by matching five, six or seven numbers will not win a prize. The overall odds of winning a prize in the game are 1 in 4.54.
Drawings are held at 12:45 p.m. and 8:45 p.m. daily. Players are able to buy tickets for the next drawing until about half an hour before it. If they purchase a ticket after the cutoff time, it will be for a subsequent drawing.
Rich said that All or Nothing's catch phrase of "Win either way!" is a perfect way to describe it.
"This win is the perfect example," he said. "The ticket matched no numbers and still won $100,000. There's no other game like this in our two states. We're thrilled to be able to offer this new game to our players."
Return to top↑