Scratch Tickets: A Gift That Keeps On Giving
Lottery Scratch Tickets Make Perfect Stocking Stuffers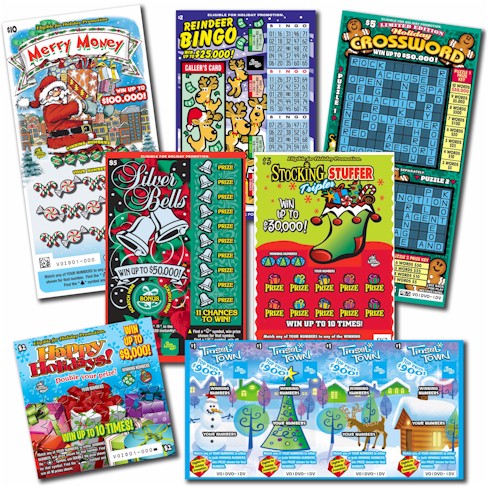 To download image, right click on image, then navigate to 'Save Picture As' to save this file to your computer. Other images available: Jessica Krough and Bobbi Sanders.
DES MOINES, Iowa - If winning the top prize in a lottery scratch game would make you jump up and down, imagine giving that gift to a family member or friend this holiday season.
Just ask Jessica Krough from Otho, who last year, received a "Wild Bingo" instant-scratch ticket in her stocking from her mother and won the top prize of $25,000.
"I was jumping up and down on the couch. And my sister was like, 'You can't jump on the couch!' And I said, 'I'll buy you a new one!'" Krough laughed.
Krough, who graduated from the University of Northern Iowa in 2009, planned to use her unexpected prize money to pay off student loans.
Another unexpected top prize landed last year in the lap of Bobbi Sanders from Moberly, Mo., when her sister from Iowa stuffed her stocking with a "Roll 'Em" scratch ticket and she won a $10,000 prize.
"As I was scratching if off, I looked at her and said, 'Is this fake?' And she said, 'No.' Nobody could believe it!" Sanders said.
So if you're still scratching your head and trying to decide which gifts to give this holiday season, keep things simple and easy.
The Iowa Lottery has seven different holiday-themed scratch tickets this year to choose from: "Merry Money," "Silver Bells," "Holiday Crossword," "Stocking Stuffer Tripler," "Reindeer Bingo," "Happy Holidays" and "Tinsel Town."
Lottery players can also use nonwinning tickets in any of those games for a chance to win some of the season's hottest electronics and cash prizes in the "Tech The Halls" holiday promotion that runs through Jan. 18. The promotion offers 250 prizes of Sony® electronics along with 25 cash prizes ranging from $500 to $5,000. Players can enter the promotion using nonwinning tickets in the seven holiday-themed instant-scratch games available this season in Iowa. Different levels of prizes are involved for different tickets.