Players Now Can Earn Bonus Points To Use For Prizes, Promotions In Lottery VIP Club

Points For Prizes™ Store Launches As Part Of Lottery's Player Rewards Program, Nonwinning Scratch Tickets Can Be Entered To Build Up Points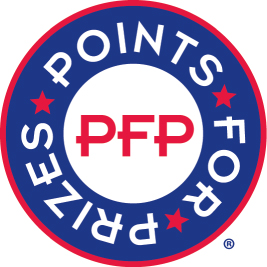 Hear more about Points For Prizes™.

To download image, right click on image, then navigate to 'Save Picture As' to save this file to your computer. To download digital audio files of this story, right click here, then navigate to "Save Target As" to save this file to your computer.
DES MOINES, Iowa - Don't toss those nonwinning lottery scratch tickets! The Iowa Lottery's long-time customer rewards program has been revamped and now includes a "Points For Prizes" store where players can enter nonwinning tickets to earn points that can be used for merchandise and other prizes.
Mary Neubauer, the Iowa Lottery's vice president of external relations, said that like other businesses, the lottery looks for ways to offer its customers more value for the products they buy.
"Our enhanced VIP Club - and now its Points For Prizes store - really helps players stretch their fun," Neubauer said Tuesday as the lottery announced the new Points For Prizes store within its VIP Club. "You know these programs are hugely popular from the range of businesses that offer them - restaurants, airlines, radio stations and hotels, just to name a few.
"This is another way we can give prizes to players, but with a different look and feel than just changing the prize structures of our games," she said.
The Iowa Lottery has long had a player rewards program, which has gone by different names and had different formats since its start in 1994, and has always been free to join. Through the years, members of the club have received coupons and special offers from the lottery and been able to enter occasional promotions for the chance to win prizes.
Neubauer said that through the website of its revamped players club - www.ialotteryvip.com - the lottery now can offer its players special promotions and prizes on an ongoing basis.
"Our players through the years have told us they like being able to use nonwinning tickets for the chance at more prizes," she said. "Our revamped club allows us to offer them that option consistently."
Iowa Lottery players who become members of the VIP Club can use nonwinning instant-scratch tickets to enter promotions and contests at ialotteryvip.com and build up points they can use for merchandise and other prizes. Merchandise available through the club ranges from music downloads to televisions and camping equipment.
In fact, more than the 12,000 Iowa Lottery players have already joined the revamped VIP Club since it was launched in May, and all of those players have been building up points from the tickets they have entered, Neubauer said.
"Their points are now waiting for them in their VIP Club accounts," she said. "I guess you can call it a summer bonus."
While players now can enter nonwinning scratch tickets in the club, later this year the process will be expanded to also include entry of nonwinning lotto tickets.
The winners in the first promotion through the revamped VIP Club were selected Tuesday. Forty-six Iowa Lottery players won cash prizes ranging from $500 up to $5,000 in the Play It Again™ promotion, including Andrew McCullough of Pleasant Hill, who won the top prize. VIP Club members entered more than 338,000 tickets in the promotion.
"This promotion gave 46 players the chance to win prizes, but the new Points For Prizes store means everyone can be a winner," Neubauer said.