The Mystery Of The Missing Millionaire: Nine Months Later, Still No Word From Hot Lotto® Jackpot Winner

Lottery Reminds Players To Check Tickets For $16.5 Million Winner Still Out There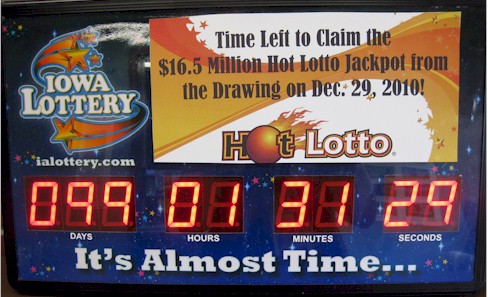 Hear more about this story.

To download image, right click on image, then navigate to 'Save Picture As' to save this file to your computer. To download digital audio files of this story, right click here, then navigate to "Save Target As" to save this file to your computer.
DES MOINES, Iowa - Somewhere, perhaps tucked away in a car's glovebox or in a sock drawer at home, is a Hot Lotto ticket worth a whopping $16.5 million - and time is running out for the lucky winner to claim the big prize.
Nearly nine months have passed since the jackpot-winning ticket was purchased during the holidays at a Des Moines convenience store along the interstate. No jackpot winner in Iowa Lottery history has ever taken this long to claim the prize, and the jackpot is currently the second-largest unclaimed prize in the country.
Iowa Lottery CEO Terry Rich said Wednesday that while several people have come forward hoping that they were the big winner, none of them actually had a ticket to present, and the information they shared does not match the facts about the winning ticket.
"It is so sad to see this prize continue to sit there without being claimed," Rich said. "Someone legitimately won this prize and we want them to have the money. It could make a huge difference in someone's life - or several someones' lives."
To help draw attention to the unclaimed jackpot and its approaching deadline, the lottery has installed a countdown clock at its headquarters office in Des Moines and programmed a countdown clock that people can track on its website at www.ialottery.com.
Rich said that the lottery does not release a ticket's date or time of sale for security reasons, but some other details can be provided. The Hot Lotto jackpot-winning ticket was purchased at Quik Trip, 4801 N.E. 14th St. in Des Moines. The lucky ticket matched all six numbers selected in the Dec. 29 Hot Lotto drawing to win the grand prize. The winning numbers that night were: 3-12-16-26-33 and Hot Ball 11.
The $16.5 million jackpot is the third-largest prize ever offered in the game, and the seventh-largest Iowa Lottery prize won to date.
Hot Lotto tickets in Iowa expire a year from the date of the drawing in which a prize is won, so Rich emphasized there's still time for the jackpot to be claimed. The prize will expire at 4 p.m. on Thursday, Dec. 29, 2011, if it isn't claimed by then. (The lottery's Validations Office closes at 4 p.m. and the equipment needed to process winning tickets is shut down at that time.)
"We've heard from several people who were worried they might have won the prize and somehow misplaced the ticket, but none of them have turned out to be the winner," Rich said. "Remember that you have to present the winning ticket to the lottery to claim the prize."
Iowa's unclaimed jackpot is one of two eye-popping lottery prizes that currently are unclaimed in the United States. And just a handful of U.S. lottery prizes that were larger have ever gone unclaimed. In addition to the unclaimed Hot Lotto jackpot, a $21.8 million Megabucks jackpot is currently unclaimed in Oregon. That ticket was sold in Portland for the July 30 Megabucks drawing, and the prize will expire at 5 p.m. on July 30, 2012, if it is not claimed by then.
The largest recent U.S. lottery prize that expired without being claimed was a $68 million Mega Millions® ticket purchased in Brooklyn, N.Y., for a December 2002 drawing.
Steve Bogle, the Iowa Lottery's vice president of security, said that in addition to checking into the reports the lottery has received, lottery investigators also have worked to possibly identify the jackpot winner by tracking similar ticket purchase patterns. While their work has identified several people who have played the same set of winning numbers, none of them appear to have made the jackpot-winning purchase, Bogle said.
Bogle also noted that the jackpot-winning ticket has never been checked on a lottery terminal in Iowa.
"Our investigators take every inquiry seriously. We want to award the rightful winner the money," Bogle said. "But these situations also show why we don't release all of the details about winning tickets. Our security department uses that information as part of its investigations and we cannot compromise that work. We must ensure the security and integrity of our games."
The jackpot can be claimed in annual, annuitized payments totaling $16.5 million over 25 years or as a one-time, lump-sum payment of nearly $10.8 million.
If the prize expires without being claimed, the money for the jackpot will go back to the 15 lotteries that offer Hot Lotto in proportion to the percentage of sales that came from each jurisdiction. For example, if Iowa contributed 20 percent of the sales for that particular jackpot, Iowa would get 20 percent of the money back. How the money would be used depends upon the specific laws and rules in each state. In Iowa, the money from unclaimed prizes goes into the lottery's prize pools for future games.
The Hot Lotto game began in April 2002, offering Powerball-style play but with easier odds. Hot Lotto players choose five numbers from a pool of 39 and another number, called the Hot Ball, from a pool of 19. Iowa Lottery players have won eight jackpots in the game so far.
The Hot Lotto jackpot starts at $1 million and grows until someone wins it. Tickets in the game cost $1. Hot Lotto drawings are held at about 9:40 p.m. on Wednesdays and Saturdays, just before the Powerball drawings. Hot Lotto tickets are sold in Iowa, 13 other states and the District of Columbia.