'Mystery Millionaire' Starts Sunday, Will Give Away Money From Two Unclaimed Jackpots
Unusual Situation Results In Bonus $2 Million Summer Give-away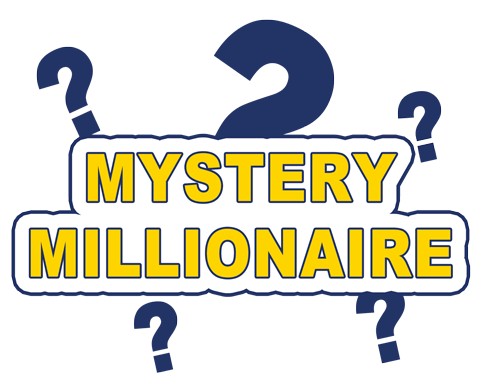 To download image, right click on image, then navigate to 'Save Picture As' to save this file to your computer.
DES MOINES, Iowa - This weekend, the Iowa Lottery will kick off a summer promotion to give away $2 million in prize money from those big jackpots that went unclaimed late last year.
The "Mystery Millionaire" promotion that begins Sunday will give lottery players who buy the $5 Mystery Millionaire pack the chance to win prizes from $10,000 up to $1 million. The promotion will culminate in a live give-away show on Extreme Sunday, the final day of the 2012 Iowa State Fair.
"We can' remember a time when two big prizes like this expired at nearly the same time," Iowa Lottery CEO Terry Rich said. "So, we're going to see if we can have better luck the second time around with a 'summer bonus' for Iowa players."
One of the unclaimed prizes - a Hot Lotto® jackpot won with a ticket purchased in Des Moines - generated international headlines when lawyers representing a trust turned in the winning ticket with less than two hours to go before the big prize would have expired in late December, but ultimately withdrew the claim in January.
And just before that hub-bub started, an even bigger prize - that one a $77 million Powerball® jackpot won in Georgia - had expired on Dec. 26 without being claimed.
The money from those unclaimed jackpots goes back to the individual lotteries that sell the games in proportion to the percentage of sales that came from each state for those particular drawings. Iowa's share was a total of about $2 million.
"This is a very unusual circumstance and it's money that's going to Iowa Lottery players who play these same games," Rich said. "The state received its portion from lottery proceeds when the tickets were sold."
With the unclaimed jackpots occurring in Hot Lotto and Powerball, the summer promotion also will involve those games. From the start of business on Sunday through 11:59 p.m. on July 28, a special $5 Mystery Millionaire pack will be available from lottery terminals statewide. You'll get an easy-pick Powerball with Power Play ticket, an easy-pick Hot Lotto Sizzler ticket, and along with those, a bonus Mystery Millionaire entry ticket with a code to enter on the lottery's website at www.ialottery.com.
Codes must be entered on the lottery's site by noon on July 31. Players can use each ticket only once as an entry and do not have to keep their bonus Mystery Millionaire entry tickets once they have been entered.
On Aug. 2, the lottery will select 49 winning tickets in the promotion. Thirty-four players immediately will win prizes of $10,000 each. The 15 others will advance to the Mystery Millionaire Giveaway on Aug. 19 at the Iowa State Fair. Each of those contestants will win at least $25,000 during a live finale event and could win the grand prize of $1 million.
"We've been having fun just saying 'Millionaire at the Fair,'" Rich said. "And in addition to the prizes for our players, we'll also have prizes for the retailers that sell the winning tickets and the audience members at our live event."
The 15 semifinalists who will attend the live event at the Fair each will receive four State Fair admission tickets; two parking passes; hotel stay for two; admission for two to an exclusive dinner Aug. 18; and spending cash.
The first 1,000 audience members to check in Aug. 19 at the live show site on the Grand Concourse at the Fair will receive tickets to attend the giveaway. Fifteen audience members will win prizes from $250 to $1,000 during the 1 p.m. finale event.
The retailers whose locations sell the winning tickets to the 15 players at the live give-away also will win prizes ranging from $500 to $2,000.
"We've been looking for a really fun way to cap off the summer, and we're happy to be spreading these winnings around by giving away prizes to our players and retailers as well as our live audience," Rich said.
Return to top↑