Prize Winners Announced In 'Mystery Millionaire'
34 Lottery Players Win Prizes of $10,000 Each, 15 Others Headed To State Fair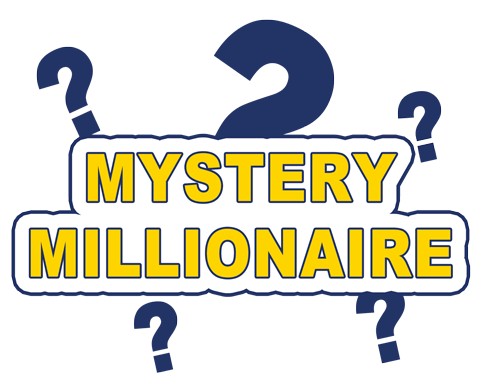 To download image, right click on image, then navigate to 'Save Picture As' to save this file to your computer.
DES MOINES, Iowa - Thirty-four Iowa Lottery players won prizes of $10,000 each Thursday in the "Mystery Millionaire" drawing while 15 others were selected for a finale event later this month at the Iowa State Fair where they will win up to $1 million.
Lottery players entered more than 197,000 tickets in the promotion before the entry deadline passed at noon Tuesday. These 15 players were selected in the promotion drawing to participate in the State Fair event where each will win a prize from $25,000 up to $1 million:
1. Thuan Duffert, Des Moines
2. Betty Freilinger, Monona
3. Joseph Holmes, Muscatine
4. Janese Hopkins, Cedar Rapids
5. Kathy Kasner, Ferguson
6. Kandy Lorimer, Fairfax
7. Allison Martin, Cedar Falls
8. Brenda Mertens, Vinton
9. Chuck Noty, Garner
10. Elena Reddersdorf, Eldridge
11. Kevin Reynolds, Bettendorf
12. Richard Ritze, Alburnett
13. Douglas Steenson, Waukee
14. Dean Stuhr, Des Moines
15. Sheree Watson, Charles City
Another 34 players were selected as winners of a $10,000 prize each in Thursday's drawing. They are:
1. Frank Anderson, Clinton
2. Diane Bales, Cedar Rapids
3. Judy Bauer, Walker
4. Tim Brooks, Goldfield
5. Terry Bryant, Pleasant Hill
6. Rick Charbonneau, Logan
7. Doug Conner, Wausaukee, Wis.
8. Gary Dezell, Atkins
9. Judy Fox, Waterloo
10. Louis Harvey, Ottumwa
11. Debbra Hebert, Solon
12. Ronald Huber, Delhi
13. Patty Laire, Elliott
14. Debra Lamar, Bettendorf
15. Janice Megel, Des Moines
16. Charlie Miller, Bouton
17. Billie Mims, Cedar Rapids
18. J C Nobbe, Rockwell City
19. Linda Northouse, Des Moines
20. Ricky Peterson, Fort Dodge
21. Tim Rau, Council Bluffs
22. Norm Roller, Yetter
23. Chad Sadler, Hopkinton
24. Sarah Scogin, Waterloo
25. Gayle Seehusen, Cedar Rapids
26. Darwin Stock, Waverly
27. Harve Sultan, Davenport
28. James Temple, South Point, Ohio
29. Kathryn Van Brocklin, Lansing
30. Nancy Vincent, Story City
31. Katie Vriezelaar, Urbandale
32. Martin Wadle, Algona
33. Jennifer Winn, Hawarden
34. Amee Wyatt, Farmington
The Mystery Millionaire promotion gave lottery players the chance to win prizes ranging from $10,000 up to $1 million - money that came from two big jackpots that expired without being claimed during the past year. The promotion will culminate in a live give-away show on Extreme Sunday, the final day of the 2012 Iowa State Fair.
One of the unclaimed jackpots - a Hot Lotto® prize won with a ticket purchased in Des Moines - generated international headlines when lawyers representing a trust turned in the winning ticket with less than two hours to go before the big prize would have expired, but ultimately withdrew the claim in late January.
And just before that hub-bub started, an even bigger prize - that one a $77 million Powerball® jackpot won in Georgia - also expired without being claimed.
The money from those unclaimed jackpots goes back to the individual lotteries that sell the games in proportion to the percentage of sales that came from each state. Iowa's share was a total of about $2 million.
With the unclaimed jackpots occurring in Hot Lotto and Powerball, the Mystery Millionaire promotion also focused on those games. Special $5 Mystery Millionaire packs were available for purchase from lottery terminals statewide from July 1 through noon Saturday. In each pack, players got an easy-pick Powerball ticket with Power Play, an easy-pick Hot Lotto Sizzler ticket, and along with those, a bonus Mystery Millionaire entry ticket with a code to enter on the lottery's website.
The 15 semifinalists who will attend the live event at the Fair each will receive four State Fair admission tickets; two parking passes; hotel stay for two; admission for two to an exclusive dinner Aug. 18; and spending cash.
The first 1,000 audience members to check in Aug. 19 at the live show site on the Grand Concourse at the Fair will receive tickets to attend the giveaway. Fifteen audience members will win prizes from $250 to $1,000 during the 1 p.m. finale event.
The retailers whose locations sell the winning tickets to the 15 players at the live give-away also will win prizes ranging from $500 to $2,000
Return to top↑