Gift Cards, Electronics & Vegas Trips Up For Grabs In Lottery's 'Winter Of Winners'
Player Requests For More Prizes At The Holidays Lead To Three Drawings This Season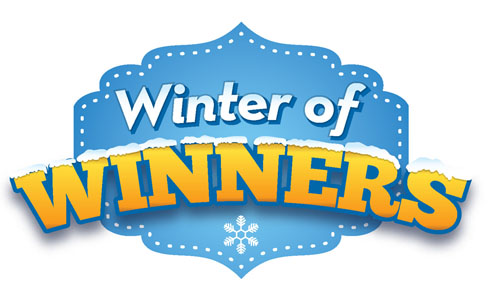 To download image, right click on image, then navigate to 'Save Picture As' to save this file to your computer.
DES MOINES, Iowa - Record entries in its holiday promotions over the past three years and player requests for more second chances to win have led the Iowa Lottery to extend its holiday campaign this year to a span of four months with three drawings offering gift cards, home entertainment packages and trips to Las Vegas.
The "Winter of Winners" promotion kicked off Wednesday as the first eight of the lottery's holiday-themed instant-scratch games began sales for the season. Two more holiday scratch games will hit the streets Oct. 31.
"Our players have pushed entries in our holiday campaigns to record levels in each of the last three years," Lottery CEO Terry Rich said. "So, we've expanded things this year and are doing our best to meet players' wishes by getting an early start. We want our players to know we're offering them dozens of sought-after prizes and multiple chances to win."
Winter of Winners offers a total of 150 prizes, including 10 trip packages to THE PALMS™ Casino and Resort in Las Vegas. Players' entries in the drawings will correspond to the purchase price of the tickets they enter. For example, a $2 ticket will receive two entries in the promotion, while a $10 ticket is good for 10 entries.
"You could win the perfect present for yourself or someone on your gift list," Rich said. "Or better yet, how about a trip to Las Vegas for a get-away after the holidays?"
To enter the promotion, Iowa Lottery players must join or already be members of the lottery's free VIP Club. Complete rules are available on the lottery website at www.ialottery.com and drawing results also will be posted there.
Here is the drawing schedule:
On Nov. 14, 100 Bass Pro Shops® gift cards of $250 each will be given away.
On Dec. 14, 40 home-entertainment systems worth $2,019 each will be up for grabs. Each electronics package includes a premium-brand, 42-inch LED HDTV with five-piece mounting kit; 1,000-watt home theater system with mobile digital device dock; and Blu-ray Disc™ player.
In the third and final drawing on Jan. 14, 10 trip packages to THE PALMS™ in Las Vegas will be given away. Each trip package, valued at $4,315, includes airfare for two to Las Vegas; a three-day, two-night stay for two in a deluxe room at THE PALMS™ roundtrip ground transportation from the destination airport to THE PALMS™ ticket allowance for two tickets to a Las Vegas show; and $1,000 spending cash.
The entry deadline for the first drawing is noon Nov. 12; noon Dec. 12 for the second drawing; and noon Jan. 12 for the final drawing.
To enter, players will visit the Winter of Winners promotion page on the lottery's website. There, they will click on an "Enter Here" button to enter the 10-digit entry number from the front of a nonwinning holiday scratch ticket available this season in Iowa, along with the ticket number from the back.
Here are the games you can enter (winning tickets are not eligible):
$1 Holiday Gold or Happy Howlidays = one entry per nonwinning ticket entered.
$2 North Pole Bingo, Merry MONOPOLY™ or Best Wishes For A Swell Season = two entries per nonwinning ticket entered.
$3 Holiday Crossword or Jingle Bell Jackpot = three entries per nonwinning ticket entered.
$5 Holiday Black or Peppermint Super Crossword = five entries per nonwinning ticket entered.
$10 Holiday Treasures = 10 entries per nonwinning ticket entered.
A few requirements to keep in mind:
You can only enter the promotion on the lottery's VIP Club website. Hand-delivered or mailed entries will not be accepted.
You can enter each ticket only once.
Players can enter up to 30 nonwinning holiday scratch tickets per day.
And, while you can enter multiple times, you can win only one prize per drawing. Entries not selected as winners in an earlier drawing will remain eligible for the subsequent drawing(s).
All holiday tickets entered in the Winter of Winners promotion also will earn players Points For Prizes™ points that can be used in the Iowa Lottery's VIP Club store.
©2012 FP Holdings, L.P. dba Palms Casino Resort. All Rights Reserved.
Bass Pro Shops®, Bass Pro Shops Outdoor World® and
are registered trademarks of Bass Pro Intellectual Property, LLC and used under license. All Rights Reserved.
Return to top↑