100 Winners Selected In 'Winter of Winners,' Two More Drawings To Go

Bass Pro Shops® Gift Cards Were On The Line In Wednesday Drawing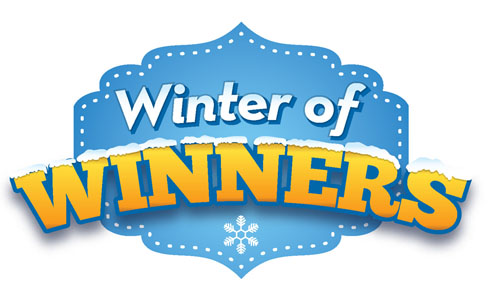 To download image, right click on image, then navigate to 'Save Picture As' to save this file to your computer.
DES MOINES, Iowa - The first 100 winners were selected Wednesday in the Iowa Lottery's "Winter of Winners" promotion, and even bigger prizes will be on the line in two additional drawings in December and January.
Bass Pro Shops® gift cards of $250 each were awarded in Wednesday's drawing, and 100 lottery players from across the state were selected as the winners of those prizes. Players made nearly 2.7 million entries in the promotion before the entry deadline for the first drawing passed at noon Monday.
Winter of Winners offers a total of 150 prizes, including 10 trip packages to THE PALMS™ Casino and Resort in Las Vegas. Players' entries in the drawings correspond to the purchase price of the nonwinning holiday scratch tickets they enter. For example, a $2 ticket receives two entries in the promotion, while a $10 ticket is good for 10 entries.
These 100 players were selected as winners of a $250 gift card each in Wednesday's drawing:
From Ames: Trent Brown, Ron Gibb and Theresa Leibold.
From Anamosa: Steven Bates, Michelle Bristol and Natasha Miller.
From Bettendorf: Jerry Fusselman, D. Miller and Kayce Sutliff.
From Carroll: Douglas Duncan and Patty Myers.
From Cedar Rapids: Julie Deason, Thomas Debner, John Homrighausen and Christopher Smith.
From Coon Rapids: Kristin Hansen and Shawn McCurdy.
From Council Bluffs: Mary Ager, Rita Hover and Randy Magers.
From Davenport: Leanne Castaneda, Jaclyn Knaack and Diana Roush.
From Des Moines: Matthew Carlson, Jessica Doorenbos, Amy Kinter, Heather Perry and Gary White.
From Fort Dodge: Lisa Allen and Cindy McCall.
From Hampton: Britt Pleggenkuhle, Troy Rew and Darren Williams.
From Marion: Andrea Singh and Crystal Thompson.
From Mason City: Brad Kraft, Amy Newton and Timothy Stepleton.
From Storm Lake: Doreen Brunning and Linda Tilton.
From Waterloo: Shannon Bloom, Teri Cronan, Troy Haurum, Paul Mathenia and Timothy McFarland.
From Winterset: William Hayes and Carol Ward.
In addition, there were individual winners from these communities: Tyler Adcock of Algona, Ken Johnson of Ankeny, Lila Coenen of Arion, Mike Paris of Bondurant, Tracy Everson of Camanche, Larry Kutcher of Center Point, Charrie Wagner of Clinton, Chad Seering of Coralville, Brian Gotschall of Correctionville, Nanci Paxson of Creston, Deanna Daniel-Turner of Diagonal, David Burns of Dubuque, Jennifer Moine of Dundee, Laura Giebler of Estherville, Cassie Greene of Evansdale, Kevin Karnik of Fort Atkinson, Margaret Rose of Fulton, Ill., Julie Schlawin of Garner, Alyssa Horton of Gowrie, Ali Billmeyer of Greeley, Jan Peterson of Harlan, Jodi Ludwig of Humboldt, Janice Enderson of Indianola, Deborah Wyatt of Iowa City, Travis Baker of Klemme, Myra Reese of Laurens, Janet Heeren of Madrid, Gerald Key of Marcus, Linda Mancina of Marshalltown, Jenni Nelson of Moscow, Andreas Gartland of Nevada, Jeff Weigel of New Hampton, George Beston of Newton, John Martin of Nora Springs, William Lehman of North English, Joyce Reed of Oskaloosa and James Black of Ottumwa, Rhonda Vosberg of Pocahontas, Jennifer Findling of Royal, Sheila Driesen of Sioux Center, Donna Studley of Sioux City, Jeff Saxton of Spirit Lake, Melissa Rhoads of Stuart, Lisa Thomlinson of Thayer, Bob Maxwell of Underwood, Betty Reece of Urbana, Lajune Lauer of Vail, Cindy Forrett of Van Meter, Peg Niles of Wall Lake, Darlene Thilges of West Bend, Dale Stewart of West Burlington, David Hamann of Wheatland, and Sherrie Riggs of Williams.
To enter the promotion, Iowa Lottery players must join or already be members of the lottery's free VIP Club. Complete rules are available on the lottery website at www.ialottery.com and drawing results also are posted there.
Here are the schedule and details for the two remaining drawings:
On Dec. 14, 40 home-entertainment systems worth $2,019 each will be up for grabs. Each electronics package includes a premium-brand, 42-inch LED HDTV with five-piece mounting kit; 1,000-watt home theater system with mobile digital device dock; and Blu-ray Disc™ player. The deadline for entry is noon Dec. 12.
In the third and final drawing on Jan. 14, 10 trip packages to THE PALMS™ in Las Vegas will be given away. Each trip package, valued at $4,315, includes airfare for two to Las Vegas; a three-day, two-night stay for two in a deluxe room at THE PALMS™; roundtrip ground transportation from the destination airport to THE PALMS™; ticket allowance for two tickets to a Las Vegas show; and $1,000 spending cash. The deadline for entry is noon Jan. 12.
To enter, players will visit the Winter of Winners promotion page on the lottery's website. There, they will click on an "Enter Here" button to enter the 10-digit entry number from the front of a nonwinning holiday scratch ticket available this season in Iowa, along with the ticket number from the back.
Here are the games you can enter (winning tickets are not eligible):
$1 Holiday Gold or Happy Howlidays = one entry per nonwinning ticket entered.
$2 North Pole Bingo, Merry MONOPOLY™ or Best Wishes For A Swell Season = two entries per nonwinning ticket entered.
$3 Holiday Crossword or Jingle Bell Jackpot = three entries per nonwinning ticket entered.
$5 Holiday Black or Peppermint Super Crossword = five entries per nonwinning ticket entered.
$10 Holiday Treasures = 10 entries per nonwinning ticket entered.
A few requirements to keep in mind:
You can only enter the promotion on the lottery's VIP Club website. Hand-delivered or mailed entries will not be accepted.
You can enter each ticket only once.
Players can enter up to 30 nonwinning holiday scratch tickets per day.
And, while you can enter multiple times, you can win only one prize per drawing. Entries not selected as winners in an earlier drawing will remain eligible for the subsequent drawing(s).
All holiday tickets entered in the Winter of Winners promotion also will earn players Points For Prizes™ points that can be used in the Iowa Lottery's VIP Club store.
Bass Pro Shops®, Bass Pro Shops Outdoor World® and
are registered trademarks of Bass Pro Intellectual Property, LLC and used under license. All Rights Reserved.
©2012 FP Holdings, L.P. dba Palms Casino Resort. All Rights Reserved.