40 More Winners Selected In 'Winter Of Winenrs,' Final Drawing Still To Go

Home Entertainment Systems Were On The Line In Friday's Drawing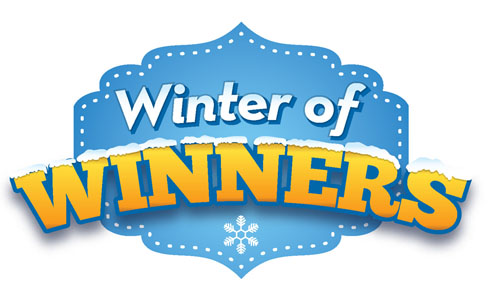 To download image, right click on image, then navigate to 'Save Picture As' to save this file to your computer.
DES MOINES, Iowa - A second round of winners has been selected in the Iowa Lottery's "Winter of Winners" promotion, with 40 lucky players receiving home entertainment systems this time around.
Friday's drawing was the second of three in the lottery promotion. In the first drawing on Nov. 14, 100 Bass Pro Shops® gift cards of $250 each were awarded. The promotion's final drawing for trip packages to Las Vegas will take place Jan. 14. Players had made nearly 5.5 million entries in the promotion before the entry deadline for the second drawing passed at noon Wednesday.
Winter of Winners offers a total of 150 prizes, including 10 trip packages to THE PALMS™ Casino and Resort in Las Vegas. Players' entries in the drawings correspond to the purchase price of the nonwinning holiday scratch tickets they enter. For example, a $2 ticket receives two entries in the promotion, while a $10 ticket is good for 10 entries.
The following 40 players each won a home entertainment system in Friday's drawing. Each electronics package, worth $2,019, includes a premium-brand, 42-inch LED HDTV with five-piece mounting kit; 1,000-watt home theater system with mobile digital device dock; and Blu-ray Disc™ player.
From Cedar Rapids: Carolyn Gilbert and Cathy Svoboda.
From Council Bluffs: Virginia Carper and Pam Whitlow.
From Perry: Barb Lincoln and George Strable.
From West Des Moines: William Flinn, Tom Leonetti and Linda Osborn.
In addition, there were individual winners from these communities: Rose Mortimer of Ainsworth, Tabatha Jayne of Anamosa, Richard Wiese of Andrew, Donna Janssen of Arnolds Park, Ronnie Saxon of Bellevue, Neb., Mike Paris of Bondurant, Shana Nolazco Cabrera of Boone, Anna Asmussen of Bronson, Kelly Tegtmeier of Cedar Falls, Pam Schmidt of Charles City, David Cable of Colo, Crystal Babcock of Davenport, Benjamin Ballard of Des Moines, Shauna Stamps of Diagonal, Gary Sauser of Elk Run Heights, Jim Porter of Fort Dodge, Dana Mueller of Fort Madison, Linda Webb of Hartford, Kara Roseland of Hiawatha, Joel Newton of Humboldt, Jessica Bruhn of Indianola, Amy Foster of Marathon, Dana Edwards of Monticello, Gail Peltier of North Liberty, Paula Campbell of Ottumwa, Jon Christy of Pella, Rex Wagener of Storm Lake, Bradley Good of Urbandale, Nancy McGowan of Vinton, Kathleen T. Vincent of Washington and Gregory Bunce of Windsor Heights
To enter the promotion, Iowa Lottery players must join or already be members of the lottery's free VIP Club. Complete rules are available on the lottery website at www.ialottery.com and drawing results also are posted there.
Here are the schedule and details forJanuary's final drawing:
In the third and final drawing on Jan. 14, 10 trip packages to THE PALMS™ in Las Vegas will be given away. Each trip package, valued at $4,315, includes airfare for two to Las Vegas; a three-day, two-night stay for two in a deluxe room at THE PALMS™; roundtrip ground transportation from the destination airport to THE PALMS™; ticket allowance for two tickets to a Las Vegas show; and $1,000 spending cash. The deadline for entry is noon Jan. 12.
To enter, visit the Winter of Winners promotion page on the lottery's website. There, they will click on an "Enter Here" button to enter the 10-digit entry number from the front of a nonwinning holiday scratch ticket available this season in Iowa, along with the ticket number from the back.
Here are the games you can enter (winning tickets are not eligible):
$1 Holiday Gold or Happy Howlidays = one entry per nonwinning ticket entered.
$2 North Pole Bingo, Merry MONOPOLY™ or Best Wishes For A Swell Season = two entries per nonwinning ticket entered.
$3 Holiday Crossword or Jingle Bell Jackpot = three entries per nonwinning ticket entered.
$5 Holiday Black or Peppermint Super Crossword = five entries per nonwinning ticket entered.
$10 Holiday Treasures = 10 entries per nonwinning ticket entered.
A few requirements to keep in mind:
You can only enter the promotion on the lottery's VIP Club website. Hand-delivered or mailed entries will not be accepted.
You can enter each ticket only once.
Players can enter up to 30 nonwinning holiday scratch tickets per day.
And, while you can enter multiple times, you can win only one prize per drawing. Entries not selected as winners in an earlier drawing will remain eligible for the subsequent drawing(s).
All holiday tickets entered in the Winter of Winners promotion also will earn players Points For Prizes™ points that can be used in the Iowa Lottery's VIP Club store.
Bass Pro Shops®, Bass Pro Shops Outdoor World® and
are registered trademarks of Bass Pro Intellectual Property, LLC and used under license. All Rights Reserved.
©2012 FP Holdings, L.P. dba Palms Casino Resort. All Rights Reserved.