Ticket Sales Begin Today In Multi-State Halloween Raffle Game
Number Of $1 Million Prizes Available Will Follow Sales Up; 7 States Participating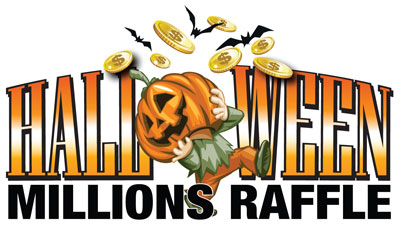 To download image, right click on image, then navigate to 'Save Picture As' to save this file to your computer.
DES MOINES, Iowa - Lottery players in Iowa can begin buying tickets today in a multi-state raffle game with a twist: If overall sales in the game reach certain thresholds, the number of $1 million top prizes available in it will increase.
"The more tickets we sell, the more millionaires we'll create," said Iowa Lottery CEO Terry Rich.
Tickets in the $10 "Halloween Millions Raffle" game are being sold in seven states: Indiana, Iowa, Michigan, New Jersey, New York, Ohio and Oklahoma. Players can buy raffle tickets until midnight Oct. 31 and the game's prize drawing will be held Nov. 1. At least two top prizes of $1 million will be up for grabs in the drawing and if certain sales thresholds are met, even more $1 million prizes will be awarded. If a participating state does not have a million-dollar winner, a $50,000 prize will be awarded in a separate drawing to someone who bought a ticket in that state.
"We'll see big winners in all the states participating in this game," Rich said.
Tickets in the raffle game will be sold at lottery terminals in retail locations, just like tickets in the Powerball® and Mega Millions® games. Each raffle ticket will bear a unique eight-digit number. Raffle players must keep their tickets to check them against the winning raffle numbers and to claim a prize.
After the drawing, the winning raffle numbers will be posted on the lottery website at www.ialottery.com and be available via reports from lottery terminals. The winning numbers also will be available at the lottery's regional offices in Council Bluffs, Storm Lake, Des Moines, Mason City and Cedar Rapids.
Raffle prizes won with tickets purchased in Iowa must be claimed within 90 days of the drawing date.
"We're pleased to offer this new twist on both raffles and the lottery," Rich said.
Halloween Millions Raffle is an outgrowth of other recent successful cooperative U.S. lottery ventures that began with the cross-selling of Mega Millions and Powerball, followed by the introduction of $2 Powerball and other games.
Return to top↑