Ten Iowa Lottery Winners Head To Las Vegas

Trip Winners Selected Monday in Final 'Winter of Winners' Drawing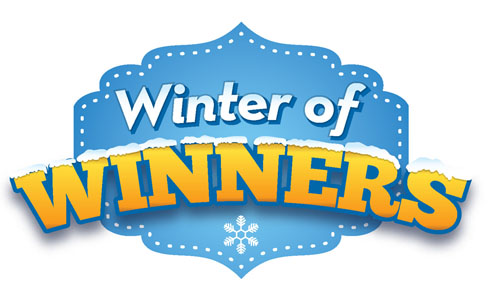 To download image, right click on image, then navigate to 'Save Picture As' to save this file to your computer.
DES MOINES, Iowa - Ten Iowa Lottery players are bound for Las Vegas after winning trip packages Monday in the final drawing of the lottery's "Winter of Winners" promotion.
Monday's drawing was the third in the winter promotion. In the first drawing Nov. 14, 100 Bass Pro Shops® gift cards of $250 each were awarded. In the second drawing on Dec. 14, 40 lottery players each won a home entertainment system worth $2,019.
Players made nearly 8.3 million entries in the promotion before the final entry deadline passed at noon Saturday.
The following players each won a trip package Monday to THE PALMS™ in Las Vegas:
Lisa Casey, Waterloo
Christopher Cox, Melcher
Barb Fagan, Onslow
Jacquelyn Goodson, Hiawatha
Robert Johnson, Independence
Jon Matteson, Thor
Kathy McKeehan, Dudley
Andy Pearson, Central City
Mona Shelangoski, Abingdon
Shannon Sorenson, Fort Dodge.
Each trip package, valued at $4,315, includes airfare for two to Las Vegas; a three-day, two-night stay for two in a deluxe room at THE PALMS™; roundtrip ground transportation from the destination airport to THE PALMS™; ticket allowance for two tickets to a Las Vegas show; and $1,000 spending cash.
Players' entries in the Winter of Winners drawings had corresponded to the purchase price of the nonwinning holiday scratch tickets they entered. For example, a $2 ticket received two entries in the promotion, while a $10 ticket was good for 10 entries. To enter the promotion, players had to be members of the lottery's free VIP Club. Details about the club are available on the lottery website at www.ialottery.com and drawing results also are posted there.
Bass Pro Shops®, Bass Pro Shops Outdoor World® and
are registered trademarks of Bass Pro Intellectual Property, LLC and used under license. All Rights Reserved.
©2012 FP Holdings, L.P. dba Palms Casino Resort. All Rights Reserved.