Rock "C" Store Welcomes All With Great Customer Service
Anyone who's lived in Iowa Falls for a while knows the Rock "C" Store on the corner at 418 Rocksylvania Ave.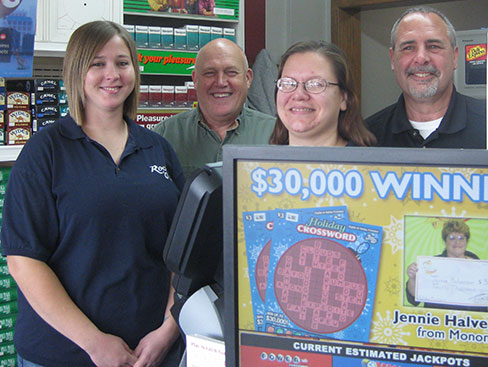 Rock "C" staff members, from left, Tara Stotser, Preston Ault and Jessica Loewen, and Lottery District Sales Representative Kevin Claxton stand behind the counter at the Rock "C" Store in Iowa Falls.
Preston Ault has owned the store for 30 years and says the Rock "C" loves its customers and treats them well. He believes the store's customer service sets it apart from some of the larger chains.
"We base our business on customer service. That's what we strive to do. Our customers are the only reason we're there," Ault said.
Ault is a friendly man who knows almost everyone who walks through the door, as does his staff. They appear to know what many people want as soon as they arrive at the counter and admit to asking for the sale on lottery, too.
He said, "The [staff] are very good. They know most of the customers - what they smoke, what they drink. And it's already on the counter when they walk in. And I think the customers appreciate that, too. They know if they're going to buy tickets, most of the people that play. And they know probably what they're going to play."
Ault said a staff member who knows a customer is a lottery player might ask, "How many Bingos do you want today?"
Rock "C" sells 12 scratch games right now and Ault is considering adding more. Its most popular scratch games are the $3 and $5 tickets, especially "Crossword."
"The lottery works well for us. We enjoy it and make it fun," he said.
The store's District Sales Representative, Kevin Claxton, echoes what Ault says about his business' strengths.
"Rock 'C' still manages to thrive in the convenience industry, which is heavily chain dominated, by providing quality service to their long-time customers. They know most customers by name and what their usual purchase is, so their customers feel like family," Claxton said.
While Rock "C" is not large, its lottery sales numbers have been good for a store its size. In a recent five-month period from July 1 through Dec. 1, 2012, the store was in the top 25 of 316 stores for overall sales in its northeastern region.
The store has a 12-game pull-tab dispenser, and that product is a great performer. In fact, pull-tabs are its strongest product: Rock "C" ranked sixth in pull-tab sales out of 140 pull-tab retailers in its regional area during that same five-month period.
"Rock 'C' is holding pretty steady in this category," Claxton said.
After spending his entire career in the retail and convenience store business, Ault admits that like many retailers, he plays the lottery, too. And like his customers, he dreams of winning a big prize, which might speed up a future retirement.
"I tell my wife, 'We only have to win once!'" he laughed.