Boone Retailer Aims to Keep Up Winning Tradition With Customers
Co-owner says strong community presence is the key to lottery success.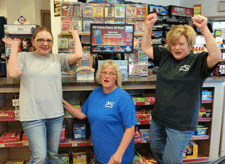 L&M Gas & Grocery is known among players as "the place to go" to buy lottery tickets in Boone. The store has paid $715,636 to winners in the last five years. Co-owner Maribeth Waldman believes that the store's strong community presence is the key to its lottery success.
As the vendor for the Boone High School Booster Club, L&M sells food at Boone sporting events so the club can raise funds for activities in the community school district. L&M also helps the local humane society by donating used boxes.
"It's community people that support us. It's not people driving by on the highway, it's local people," Waldman explained.
And of course, the store sells Iowa Lottery products to those locals, including lotto, scratch and pull-tab tickets. She said it's important for the Lottery and her store to work together to sustain good sales.
Waldman said her favorite part about selling lottery tickets is the excitement that players have for the games as well as the fun they have while playing. She emphasized how important it is that the players are informed on how to play.
"It's all about knowledge; if they are informed, they are better players," Waldman said.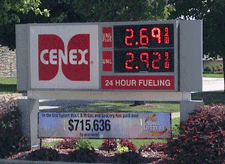 Along with keeping her customers informed, Waldman said she teaches her employees to engage with customers to build loyalty. She gives employees the skill set to educate the customers, and she said incenting them to ask for the lottery sale is effective as well. The store prides itself on its customer service.
L&M employee Pam White said, "When there's good winners, people get excited. So they're happy, so it makes you happy!"
Waldman and her two partners purchased the convenience store, located at 320 W. Mamie Eisenhower Ave., on July 1, 2004. Since taking over ownership, the group has remodeled the store, doubling its size. The remodel also included bringing the lottery ticket dispenser above the counter to make it more visible, and the store recently upgraded its Iowa Lottery display to hold 28 scratch games.
"We asked for the biggest lottery dispenser we could get," Waldman said with a smile.
L&M is second in total lottery sales among retailers in Boone, and is ranked 15th out of 663 stores in its region of the state. Its owners are not discouraged that theirs is a small store compared to some of its competitors.
"Those large stores are great competitors. I would rather compete with them than with some independents. They understand business," Waldman said.
L&M employees also build great relationships with their customers. Waldman recalled a favorite story when one of her regular customers was in the hospital. L&M employees sent the woman a get well card with scratch tickets inside and she ended up winning $5,000-enough to pay for her hospital bill. This is one of many heart-warming customer stories that L&M employees tell.
Another way that L&M likes to give back to its customers is having an annual Customer Appreciation Day. Some Iowa Lottery staff spent part of this day at L&M in June, as employees grilled out and held a lottery promotion. This tradition began on the store's first anniversary and has been held every year since. Waldman said her customers enjoy seeing "something different."
According to Waldman, L&M's motto is: "We want to be a friend and partner to the community in any way we can because without them, we don't have a business - we just don't."